On my travel to the OGP summit in Paris I experienced how it works when you reject the voluntary naked scanner/body scanner. There are signs before security that this scan is voluntary and that you should tell the security personnel if you do not want it. That is what I did, and here my memorandum of what happened at Berlin Schönefeld this morning.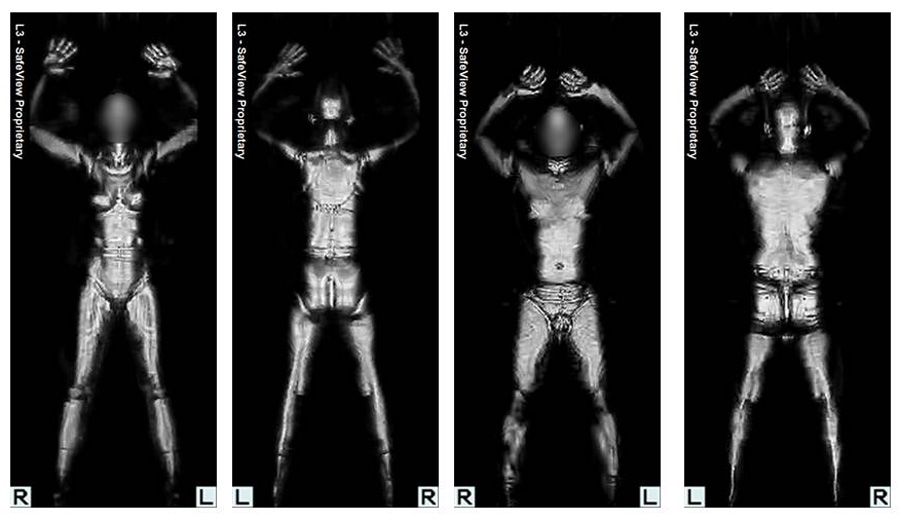 I asked the first security officer which queue I have to use if I do not want to use the naked scanner (~7:25am). He said I have to use it. After I told him that on the signs it is written that it is voluntary, he explained me that it is not really a naked scanner, but that they just see a contours of the body. We agreed that I will talk with the other officers who operate the machines.
After unpacking my laptop and liquids, I told the other security officer that I prefer the "manual treatment" (that is how they call it on the signs). He referred me to the colleague operating the machine. I was asked why I do not want it, and I said because data protection. Then I got the "manual control" which means that someone is doing the normal body massage. Afterwards they directly tested my clothing for signs of explosives.
Then the second officer brought me to my luggage, and asked me to unpack everything to have another scan of my belongings. During that he asked me why I refused the "body scanner" and there was some back and forth. As always I stayed friendly all the time, as I know that for the officers my behaviour meant more work, and that they are following orders. He explaining me they just see the contours and nothing else. I told him, that I do not trust what data of my body shape is saved and where it is stored. During the talk I also told him that what they see on their screens, and what is saved on the disk can be different things, and that just because they cannot access files from before does not mean they are not stored.
In the talk he explained me that they have to ask for the reasons why I am not doing the (see above "voluntary") check, and evaluate if this is plausible or if I am covering-up something. Pregnancy or implants would be a plausible reason. When I asked about data protection he said that is not a plausible reason, and that in such cases they would also have to ask the police to check you again.
After my luggage was scanned the second time, and I had all my belongings in the bag again they said they will now have to do the testing for signs of explosives. I told them that I was already checked for that, but they said that now my luggage will be checked. Well, so be it, another check and I can assure you that I am now quite sure that neither I nor my belongings I were in contact with explosives recently.
In the end the officer urged me to please inform myself again about the scanner to prevent such long procedures in future. Actually it was not that long, the procedure was over at ~7:45am. I wished them a nice day, left and wrote this blog post. I have to say I am concerned how people have to justify something which is supposed to be voluntary.
Now preparing the meeting in Paris...
---
Update 2016-12-09 14:24: I received many interesting comments about this post, especially on the corresponding tweet and in the comments on the BoingBoing article. Thanks to all of you who shared their experience and ideas on the subject there or by e-mail.