(If you are reading FSFE's newsletters, and you already use one of our banners, you can skip this post because I copy and pasted it. Else please continue.)
Let us admit it, the Free Software community is often very critical. Wewrite bug reports, tell others how they can improve the software, ask them fornew features, and to not spare with criticism. Sometimes we forget to say"thank you, for all your work". As in the last years, we want to change this,at least for one day. So on Tuesday the 14th of February we will celebrate the"I love Free Software" - Day.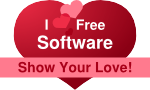 Get active, buy your favourite developer a drink or give them a hug (ask forpermission first), write an e-mail/letter expressing your feelings, create nice pictures, donate to a Free Softwareinitiative, use another of our suggestions or becreate yourself to show how you appreciate people, working hard to enlarge ordefend our freedom. Beside that help us to promote the activity with our banners, by e-mail,(micro)blog or in your (distributed?) social networks.
New this year is a whole day event in the Unperfekthaus in Essen (Germany) and that all our Fellowsautomatically get an login@ilovefs.org e-mail alias.