After my last year's blog entry on Free Software books for friends I received new recommendations for this year. So I read them, and here my new list of Free Software related books 2009 which are also good for people who have not heard much about Free Software before: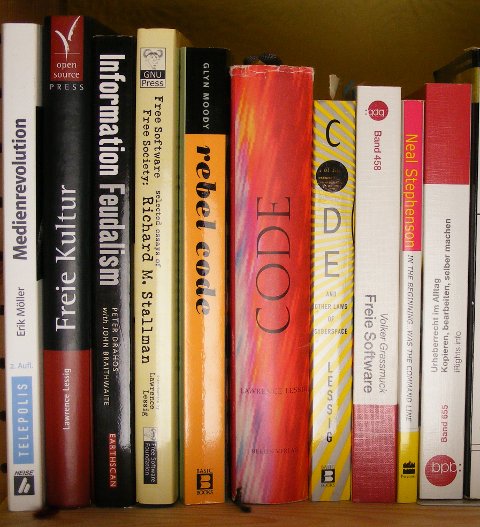 And as I happen to speak German, here a list of German books:
Lawrence Lessig: Freie Kultur is the German version of "Free Culture: The Nature and Future of Creativity" (see above).
Volker Grassmuck: Freie Software. The German classic. You need no technical background to understand it. Usually I order at least 10 of them at a time. For only 2 EUR per book it is very good as a small present. Also during the year. Everytime a friend (in my case my colleagues know about Free Software) has no clue about Free Software I can throw one of the books at him ;)
V. Djordjevic, R.A. Gehring, V. Grassmuck, T. Kreutzer und M. Spielkamp: Urheberrecht im Alltag (PDF version 15 MB). This is the book version of irights.info, a portal for all kind of questions and answers about copyright in the digital work. Your friends ask you if it is allowed to copy software, music, movies? Or how they can publish their own works? This book is a good reference book for people who want to fast find short answers to their questions. As for Volker Grassmuck's "Freie Software" I also recommend to order some more.
Lawrence Lessig: Code und andere Gesetze des Cyberspace. German version of "Code and other laws of cyberspace" above.
As last year, if you have suggestions, please write an e-mail to our public discussion list or to me in private.