Today was a really good day. I am reading all the reports from Document Freedom Day. About the DFD cake in South Africa, the activity from in Slovenia with the Supreme court, and the cool "I can't read your Documents" pictures from Romania. This is really amazing. While I am waiting for updates from the planned activities from the Rheinland and Offenburg in Germany, and the prize for Radio Orange in Vienna Austria here an quick update from Berlin:
First thing in the morning was to get rid of my e-mails and of course dress up with me "rOgg on" t-shirt. Than I was prepared for the day. At 11:00 Alex Kahl joined Hugo and me in the office. He was responsible for the t-shirts. After lunch we brought all the t-shirts and flags to Deutschlandradio Kultur. Stephan Uhlmann from FFII brought the DFD tart. I have to say it was tempting to eat the tart before going in ;) Good luck for Deutschlandradio that Alex Finkenberger brought the DFD certificate he disigned, so Stephan and I had to sign it and where not able to eat the tart. Than more and more Fellows joined us: Christan, Dirk, Grischa, Jürgen, Lena, Olaf, and Torsten.
Than Stephan and I explained why we honour Deutschlandradio for their Ogg-Vorbis use, and why this is important to Free Software. Since 2006 they are providing their Live streams in Ogg vorbis. At the moment it is the only public radio station I know that provided Ogg vorbis streams. Here a picture after we gave the certificate to Dr. Günter Müchler, program director of Dradio.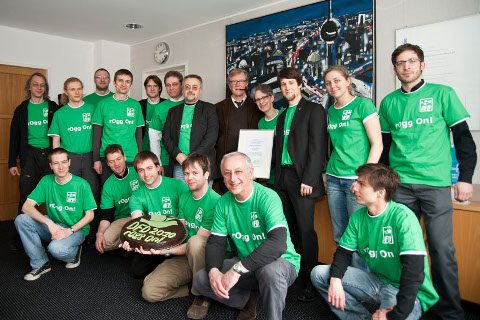 While Dietmar Timm, head of Dradio Wissen made sure, everybody got something from the tart Egbert Meyer, managing director for the online services of Deutschlandradio, said "We feel us more honoured through that prize than for a Grimme Prize. That was quite a statement :)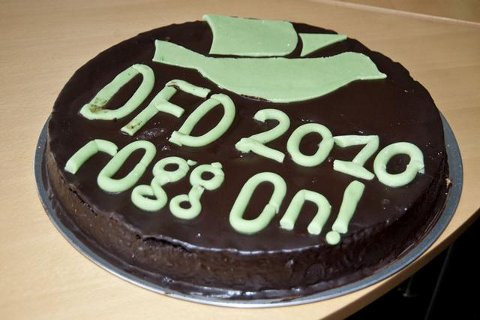 Torsten set up website with all the picture from himself and from Bettina Straub from Deutschlandradio in good quality.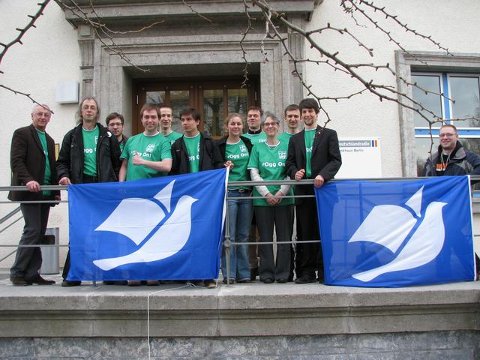 My thanks go to all the people from Deutschlandradio for providing the Ogg-Vorbis streams! Especially Mr Timm and Mr Meyer for the organisation before the event. And you might already have noticed it, this activity for Open Standards would not have been able without all of our motivated Fellows who participated in the event. You all rOGGed!!!.