In a few hours Document Freedom Day will start with the event in Tokyo organised by the Japanese LibreOffice team. During the whole day, people around the world will explain why Open Standards matters. This year we can provide you a comic to make the topic a bit more catchy: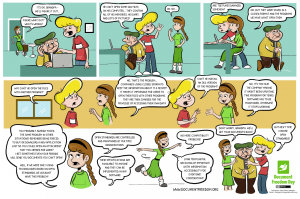 By Jamie Cosley, April licended under CC-BY-SA 4.0, available on FSFE's order page
Furthermore, during the last days I had a look at our testimonials page. I liked reading them again. Here is a small selection with highlighting by me, but have a look at the others, too.
Build so the whole world — and all of history to come — can build upon what you make. (Lawrence Lessig)

I know a smart business decision when I see one - choosing open standards is a very smart business decision indeed. (Neelie Kroes, Vice-President, European Commission)

People have grown used to the idea that files can only be opened with the same program that saved it, as if it were the natural state of affairs. And it was, long ago, in the dark ages of processor- and memory-starved eight-bit computers. Today, a program that doesn't use open standards to exchange data with whichever other program you wish to use should be considered as defective as one that crashes on startup. (Federico Heinz, President, Fundación Vía Libre)
Distribute those quotes, use them in your presentations, e-mail signatures, whatever you think helps to distribute the message, and for tomorrow I wish you all a good Document Freedom Day!