On 3 October 2015 Free Software Foundation Europe invites you for the 30th birthday party of the Free Software Foundation. While the main event will take place in Boston/USA, there will be several satellite birthday parties around the world to celebrate 30 years of empowering people to control technology, and one of them will be in Berlin.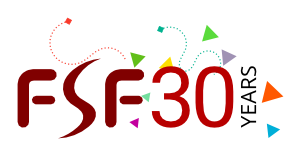 The Free Software Foundation was founded in 1985 and since then promotes computer users' rights to use, study, copy, modify, and redistribute computer programs. It also helps to spread awareness of the ethical and political issues of freedom in the use of software.
The birthday party in Berlin, organised by FSFE, will take place from 15:00 to 18:00 on 3 October 2015 at: Endocode AG, Brueckenstraße 5A, 10179 Berlin.
To make sure that FSFE's donor Endocode can provide enough birthday cake and coffee, please register before 15 September 2015 for the event by sending us an e-mail with the subject "FSF30".
Join us on 3 October, celebrating 30 years of working for software freedom!