My English book Ada & Zangemann - A Tale of Software, Skateboards, and Raspberry Ice Cream can be pre-ordered at No Starch Press with the coupon code "Hacking4Freedom".
This still feels a bit like a wonderful dream to me and I am so thankful it all worked out. I hope you will enjoy reading the book yourself and to others, that you share it with children around you to inspire their interest in tinkering with software and hardware and encourage them to shape technology themselves. I also hope, that it serves as a useful gift for your family, friends, and co-workers because it explores topics you care about, and that you also appreciate that it is published under Creative Commons By Share Alike.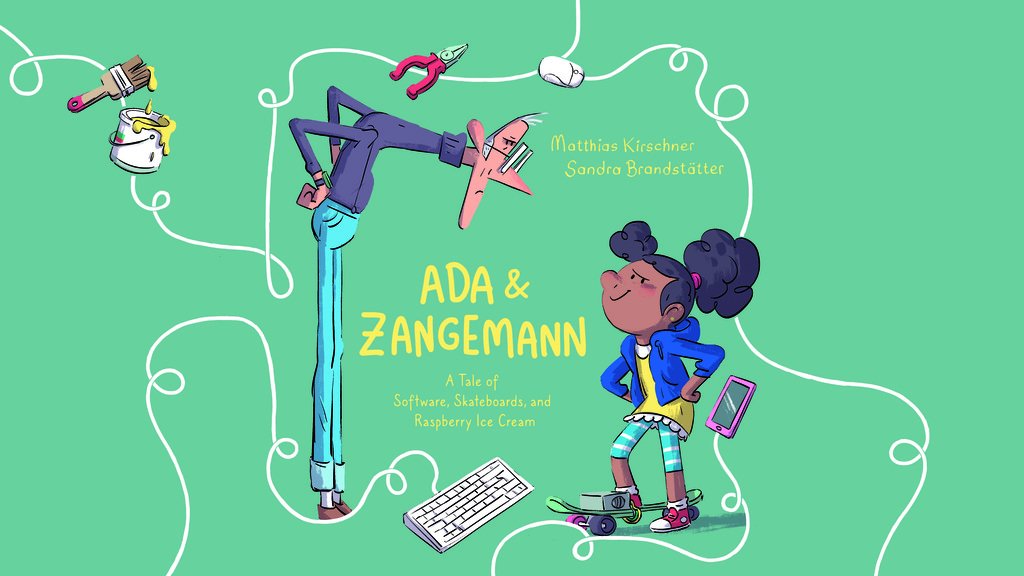 "A rousing tale of self-reliance, community, and standing up to bullies…software freedom is human freedom!" —Cory Doctorow, Sci-Fi Author

"Introduces readers young and old to the power and peril of software. Behind it all is a backdrop of ethics of knowledge sharing upon which the arc of human history rides." —Vint Cerf, Computer Scientist and One of the Inventors of the Internet

"In this hopeful story Ada and her friends join a movement that started back in 1983. Their courageous adventure of software freedom and learning how technology works is a wonderful way to introduce young people everywhere to the joys of tinkering!" —Zoë Kooyman, Executive Director, Free Software Foundation

"Even as a non-child, I was captivated by the story from the first page to the last. Kudos to the author for packaging difficult topics such as monopolies, lobbyism, digital divide, software freedom, digital autonomy, IoT, consumer control, e-waste and much more in a child-friendly form in an easily understandable and exciting storyline." —Jörg Luther, chief editor of the German Linux-Magazin, LinuxUser, and Raspberry Pi Geek
If you are from the US you can pre-order the hardcover from No Starch Press, get 25% off with the coupon code, receive the DRM free ebook now, and get the book sent from the US in starting in December.
If you live outside the US there are other options. According to the current plan, by the end of 2022, you should be able to pre-order the book from local bookstores worldwide, so the book does not have to be shipped from the US. Those bookstores should then be able to ship the book from ~May 2023 onwards.
Such a book would not be possible without the help of many people and without space restrictions, I can be a bit more verbose in thanking them (and I am pretty sure I unfortunately still forgot some: if so, please let me know):
Many thanks to Reinhard Wiesemann from the Linuxhotel for the financial support and motivation to no longer plan but to make. Thanks to Sandra Brandstätter, who has brought me joy with every new design for the illustrations. Thanks to my editor Wiebke Helmchen, who made developing and sharpening the story fun, and to No Starch Press, and my German publisher d.punkt / O'Reilly guiding me through the whole process of publishing a book and for agreeing to publish the book under a free culture license.
Thanks to Bea and Benni, Christine and Marc, Bernhard Reiter, Isabel Drost-Fromm and Amelia, Katta, Kristina, Martin, Mona and Arne, Nina, Oliver Diedrich, Reinhard Müller, Sabine, and Torsten Grote for great ideas, inspiration, and practical tips.
Thanks to my collegues and volunteers from the FSFE, and the team at d.punkt / O'Reilly who helped a lot to promote the book to a larger audiences.
For the English version a special thanks goes to Cory Doctorow, Brian Osborn, and Vint Cerf for helping me find the right publisher, to John Sullivan for his valuable feedback for language improvements, to Luca Bonessi for his great help with maintaining the git repository for the book, Catharina Maracke and Till Jaeger for their help with Creative Commons licensing with the German version and the many hours in which Pamela Chestek helped No Starch Press and myself to optimise the contract for CC-BY-SA.
Thanks to Bill Pollock and the team at No Starch Press for working on all those many details included in book publishing, from editing, production, marketing, sales, and all the other nitty-gritty details that are often not recognized by readers, but that make a huge difference.
Thanks to the many people of the Free Software movement in general and all the volunteers and staffers of the FSFE, from whom I was allowed to learn and whose engagement motivated me so that this book can inspire children's interest in tinkering and encourage them to shape technology.
Finally, thanks to my family, who made me write early in the morning, late in the evening, and on holiday, and who always supports my work for software freedom. Especially, I would like to thank my children, who inspired me with new ideas at each reading. Without them, this book would not exist.
For additional information about the book, please visit the FSFE's website about it. All royalties of the book will go to the charitable FSFE and supports the FSFE's work for software freedom.